For years, I had wondered just who were Cheadle Archers.  The name of this Victorian club is on three trophies that had come into the possession of my own club, the Bowmen of Bruntwood, since its formation in Cheadle, Stockport, in 1950.
It was only when I was compiling a history of the Bowmen of Bruntwood that I came across an A4 sheet of paper containing details of Cheadle Archers – the names of archers, mainly women, the year they formed, 1871, various shooting matches against other clubs, and information linked to particular years.
In the first year mentioned, 1878, there were two names among the six listed that were significant, although I didn't realise this on first reading.  They were Mrs. C.G. Ross and Mrs. E.H. Sykes.
It was during research at the Archery Collection at Manchester Museum, helped by my friend, Wendy Hodkinson, the collection's then honorary curator, and her archery archivist, Andrew Furey, that I noticed the name of Sykes again.  This time it was T.H. Sykes.
A quick Internet search soon uncovered his background.  He was none other than Thomas Hardcastle Sykes, the head of the Edgeley-based bleaching company in Stockport.   It soon became obvious that the Sykes were one of the leading families among Cheadle Archers.   T.H. Sykes's nephew, Frank, was the club's honorary secretary.  Mrs. E.H. Sykes – or Frances Anne, to use her birth name – was Frank's mother.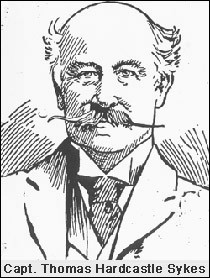 Further research uncovered the fact that T.H. Sykes was a committee member of one of the newest archery groups in the country – the Grand Northern Archery meeting.  How he found the time for this, heaven knows, because not only was T.H. Sykes working long hours running his company, he also had a crowded public life, too.  He was High Sheriff of Cheshire, a JP, and treasurer of Stockport Infirmary, among other things.
And then there was Mrs. C.G. Ross.  Those initials are her husband's – Scots-born Colin George Ross, formerly of the diplomatic service, whose grandfather knew Lord Nelson.But Mrs. Ross deserves to be known by her own name, because she was an outstanding sportswoman, someone who surely went against the trend in an age when upper middle-class women were expected to be home-makers, living in the shadow cast by their menfolk.
She was born in 1837 in Manchester, and named Christian Alexandrina Paton Henderson, the daughter of East India merchant Charles Paton Henderson.  Her obituarists stated that she rode to hounds in Cheshire early in her life – noted for her "fearless riding."   She could not only handle a bow but a gun as well.  She went deerstalking, grouse shooting, entered tennis tournaments in Manchester, and played golf to a high level – as well as winning archery prizes.   Her favourite pastime, though, was trout fishing.
But this remarkable woman, who at one time lived in Manchester's Pall Mall with her family and five servants when her husband worked for the Bank of England in King Street, died at the relatively early age of 54 from uterine cancer in Newcastle-upon-Tyne.
Another Cheadle Archer of note was Elizabeth Tindal-Carill-Worsley of Platt Hall, Rusholme.  She was a descendant of Erasmus Darwin, and her grandson, Group Captain Nicolas Tindal-Carill-Worsley, was a Second World War bomber pilot who was imprisoned and then helped organise the escape from Stalag Luft III.
So behind those names and initials were some surprises.
No central records exist now of these Victorian archery clubs, and the one thing missing from that A4 sheet of paper was the location of Cheadle Archers' shooting ground.  But it was almost certainly near to Barnes Hospital, now converted into apartments as part of a private housing estate between the M56 and A34. Planning for the hospital began in the same year Cheadle Archers formed – 1871.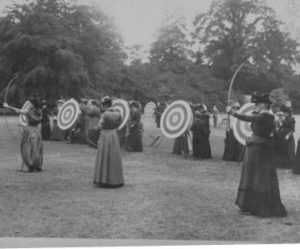 Victorian maps of the period show an archery ground near the hospital site.  But by 1898, a map of the Barnes Hospital site shows no archery ground.
This is supported by the fact that my initial information on Cheadle Archers – the A4 sheet – only goes up to 1893, so it would appear that the club disbanded during that decade.
Still, their name lives on in those three trophies, still awarded every year at my club, and the image above, courtesy of Manchester Museum's archery collection, shows what a Cheadle Archers meeting might have looked like.
A final thanks to our late club founder, Trevor Francis, because back in the club's formative years in the 1950s, he too was curious about Cheadle Archers, and it is likely that his letter in a local paper asking for information about them resulted in that A4 sheet of paper.  It was the key to unlocking the mystery of those Victorian archers.
David Edwards Hulme.