I have possessed a bow for much of my life. My earliest memories are of trying to shoot chickens on a farm in Marple, Cheshire, as a small boy. Luckily, I missed – a feature of my later shooting! I wasn't spotted by the farmer whose hospitality I was abusing, as I was staying with his family over a weekend.
At the age of 15 I joined Stalybridge Archers for a summer, having come into contact with them at the Mottram-in-Longdendale country show where they had put on a have-a-go. It was my Auntie Dot I have to thank for this because she had taken me to the event in her little green mini, and she paid my club fees. Unfortunately, it used to take at least two bus rides to Stalybridge, followed by a long uphill walk to the park where the club was, and still is, based. No-one told me that there was a club much closer to my home.
I used to practise on a school field opposite Auntie Dot's house in our home town of Stockport, clambering over the fence with my small straw boss and stand, plus my Slazenger flat bow and wooden arrows. The flat bow is still hung up in my garden shed.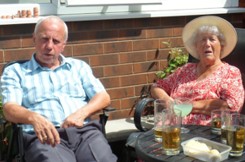 Then came a long gap during which time I married, had children, and developed my career in journalism. At the age of 27 I joined the Bowmen of Bruntwood in Cheadle a couple of miles from my home, and almost immediately became club secretary. In the following 25 years I covered every post in the club except field captain. I also coached beginners for many years, working with my archery buddy Mike Broughton.  I also owe a debt to Master Bowman Allan Naylor, who was my mentor in the early years and taught me so much about good shooting.
I've had relative success at my sport. I was a Master Bowman for several years, and in the late 70s became Cheshire champion and Northern Counties champion. At the age of 50 I managed to become the North Wales indoor champion in a late flourish. I won that competition on golds, well fueled by a birthday blow-out meal the night before, and still using aluminium arrows.
I've always shot recurve, never been tempted to transfer to compound despite many entreaties from other members as I got older, nor tried the longbow or field archery.
I still shoot and will keep on going until the day comes when I can't physically lift my bow box off the garage shelf, or my knees finally let me down. My only concessions to advancing age and poorer sight are that I mainly shoot at 60 yards and only use the clicker to keep the arrow on the shelf. I sometimes even shoot at 70 metres.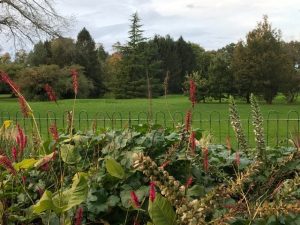 I've also written the club's history, covering the early years of the Bowmen of Bruntwood, which has continued to thrive and grow. I also had the pleasure of cracking the mystery of Cheadle Archers. We have possessed trophies from this Victorian club for many years but knew nothing about them. Now we do, and you can read the story of this short-lived club elsewhere in this section.
Another pleasure is the location of my club in a beautiful park with its extensive green acres, adventure playground, mini golf course, and a small restaurant, The Vinery, located in what used to be the orangery attached to Bruntwood Hall. The hall was turned into a boutique hotel but closed because of the Covid pandemic.
The park covers more than a hundred acres, and Bruntwood Hall was built by Scots-born industrialist John Douglas in the 1860s. He named the hall after the small Ayrshire village where his wife's family originated, and the tall pines that still line the main drive remind us that he tried to recreate a piece of Scotland in Cheshire.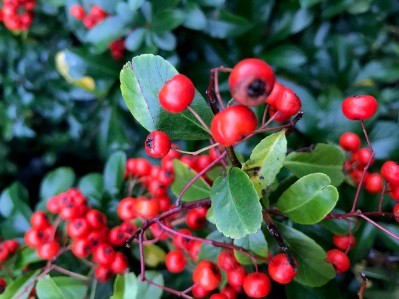 A member of the Douglas family emigrated to New Zealand to farm sheep to supply the family with wool for its wool-spinning business in Bradford, Yorkshire. They named the farm Bruntwood, and it is still there but now serving as a hotel and wedding venue. It's a co-incidence that both Bruntwoods now have hotels.
Another pleasant co-incidence is that my daughter and her family live within the Bruntwood park boundary. My grandchildren have the best back garden in the region!
A pleasing discovery I made in the summer of 2019 relates to my deep ancestry. It turns out that John Hopkins, the father of Stephen Hopkins of the Mayflower, was a yeoman archer and a member of his local militia in Hampshire. A bow, a sheaf of arrows and various items of armour, were listed among his belongings following his death in 1593. I am descended from Stephen Hopkins, a story I relate in the Life Stories section.
David Edwards Hulme.